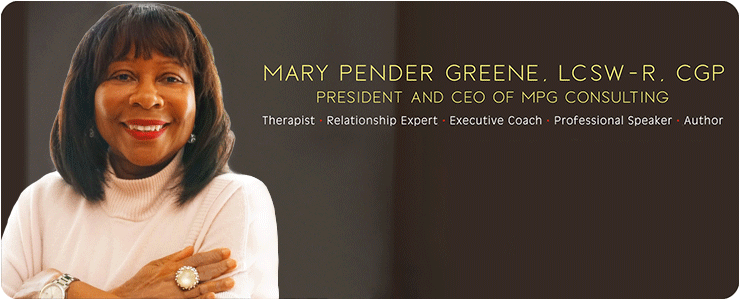 CERTIFICATIONS & ADVANCED TRAINING
Mary Pender Greene, LCSW-R, CGP, is the President & CEO of MPG Consulting (MPGC). She is a career/executive coach, consultant, trainer, and a psychotherapist with a private practice in Midtown Manhattan. Mary is a thought leader in the social services industry, recognized by her peers for her wisdom, contributions, and novel ideas on implicit bias, structural racism, and supporting organizations and leaders in their pursuit of creating an inclusive, fair, and respectful workplace that values all individuals and embraces diversity-with the goal of eliminating barriers to success in the workplace. Through coaching, training, and mentoring, she also works with executives and senior managers in creating and developing their antiracist/anti-oppressive leadership style.
Mary is the former Assistant Executive Director at the Jewish Board of Family and Children's Services. She is the author of Creative Mentorship and Career-Building Strategies: How to Build Your Virtual Personal Board of Directors (2015) and co-editor of Strategies for Deconstructing Racism in the Health and Human Services (2016).
MPG Consulting is committed to ensuring that organizations serving diverse populations are prepared to provide transformative culturally and racially attuned programmatic, clinical, and administrative services with justice and dignity. MPGC understands the constructs and intersections of race and racism with gender (including gender fluidity), LGBTQIA+, class, religious (including anti-Semitism and Islamophobia), intellectual, emotional, and physical bias and other systemic forms of oppression based on social identity. Our multiracial diverse team is composed of social workers, educators, psychologists, psychiatrists, business experts, researchers, social justice advocates, and community organizers.
MPGC works closely with and aligns with the principles of the People's Institute for Survival and Beyond, who, based in New Orleans, are recognized nationally and internationally for their Undoing Racism™ & Community Organizing Workshops. To ensure that all our consultants are fully equipped with a complete understanding of working within an antiracist framework, each consultant is required to attend the Undoing Racism™ workshop before working on any MPGC assignment.
The New York State Education Department recognizes MPG Consulting as an approved provider of continuing education credits for: LCSWs, LMSWs, LCATs, LMHCs, LMFTs, Psychoanalysts. MPGC is certified in New York as an M/WBE.
Mary's background includes executive and management responsibility for America's largest voluntary mental health and social services agency – The Jewish Board of Family and Children's Services, a non-sectarian mental health and social service organization. During her tenure at The Jewish Board Mary held several leadership roles, including Assistant Executive Director, Chief of Social Work Services, Director of Group Treatment and Director of the agency's Confronting Organizational Racism Initiative. The Jewish Board of Family and Children's Services serves 70,000 families of diverse racial and ethnic backgrounds each year in 160 programs with a staff of 3,400.
Prior to joining the Jewish Board of Family and Children's Services, Mary was Director of an outpatient patient mental health clinic at the Children's Aid Society and the Supervisor at Brooklyn Psychiatric Center's Outpatient Clinic.
PRESENTATIONS & WORKSHOPS
Mary has designed and facilitated presentations and workshops in the United States and abroad. With her uplifting and compelling style, she engages audiences and empowers them with life-changing insights. She employs a genuine passion for people to get to the heart of an issue and delivers knowledge and tools that can be applied for a lifetime. Her presentations inspire people to act, overcome obstacles, and strive for excellence. Her organizational consultation, leadership development programs and keynotes include:
ORGANIZATIONAL CONSULTATION & TRAINING
All MPG Consulting services, training and coaching are informed by an anti-racist/oppressive lens.
MPGC CONSULTATION & TRAINING SERVICES
The services we provide that are relevant to this project include those listed below. We have the capacity to provide other training as needed and to provide case consultation to direct service providers and their supervisors.
Anti-Racist Leadership • Preparing to Lead • Women in Leadership Series • Challenges Posed by Gender, Race and Sexual Orientation • Building a Thriving Psychotherapy Practice • Knowing When It's Time to Move On: Exiting with Grace • Re-Wiring Not Retiring: Preparing for the Next Phase •The Art of Kissing Up • Mental Health & the Clergy Sex Talk for Non-Sex Therapists • Self-Care for Caregivers
ADP – How to Build Your Virtual Personal Board
Black Enterprise Women of Power Summit – The Value of Having Multiple Mentors
Leaving a Legacy – Fortifying Yourself for the Journey
Graduation Speaker- New York University Silver School of Social Work
Anti-Racist Alliance: The Elephant is Not Pink! Talking about White, Black, and Brown to Achieve Excellence
NASW (NYC) Annual Meeting – Creative Mentoring: Sustaining the Profession
NYU Silver School of Social Work – Effective Leadership in Social Service Organizations
PARTIAL CLIENT LIST – CONSULTING & TRAINING
ADP • Bureau of Environmental Disease and Injury Prevention • Barrier-Free Living • Callen-Lorde Community Health Center • Care for the Homeless • Center for Court Innovation • Citizens Crime Commission of New York City • Columbia Psychiatry Department Women's Faculty Group • Cooperman College Scholars• Community Resource Exchange • Counseling In Schools • Edwin Gould Services for Children & Families • Hyde Leadership Charter School • Family Services/Hudson Valley • First Look Media• JP Morgan Chase • GMHC • Life Camp, Inc. • Legal Services NYC • Metropolitan Council on Jewish Poverty • Montefiore Health System • Morris Heights Health Center • National Dance Institute • NYC Cure Violence • NYC Dept. of Health & Mental Hygiene • NYC Mission Society • SNUG Project NYC Mission Society • NYS Psychiatric Institute (NYSPI) • NYU McSilver Institute • PR Society of America • Safe Horizons • Sanctuary for Families • SBU • SSEU Local 371 • The Bedford-Central Presbyterian Church • The Black Psychiatrists of Greater New York • Children's Village • The Concord Baptist Church of Christ • The Hub • The Institute for Family Health • The Jewish Board of Family and Children's Services (JBFCS) • The NYC Admin for Children's Services • YWCA of the City • Vera Institute
ABC News • The Morning Show • Good Day New York • Newsday • New York Post • Huffington Post • WBLS • WRKS • WBAI • Cocoa Express Internet Radio Show • Essence • Ebony • Parenting • Women's Day • NY1 • WLIB