By Bridgette
Please enjoy this informative piece by Philadelphia-based writer and mental health therapist Essence Cohen. I personally learned a lot from this article and I'm sure you will, too. Be sure to show Essence some Triple B love in the comments!
There are so many exciting activities surrounding your wedding day that you can lose focus of the importance of building the foundation for your actual marriage. The new experiences and unchartered waters you and your future spouse will explore will enhance your relationship but also test your commitment. Being prepared for these moments are actually more important than cake tasting, gown shopping and the bachelorette party. A pre-marital therapist or counselor is an excellent investment for you and your fiancé to help you both iron out the kinks that you are bound encounter when you make a vow to be with one another "for better or for worse". Outlined below are five efficient ways and reasons to seek pre-marital counseling before your wedding day!
5) Learn Where Your Partner Stands. Determine what your partner's thoughts are on premarital counseling before you begin calling around and possibly prematurely setting up an appointment. Counselors as resources to help us through many situations and it is important that you present this to your significant other so that they can begin to understand the benefits, and hopefully it will counteract any misnomers they may have about therapy.
4) Shop around. Just because you have an initial session with one counselor does not mean you have to commit to this person for the duration of your sessions. You and your partner should find someone who you feel can understand you and someone who you can relate to. Whether it be a particular gender, ethnicity or religious affiliation, shopping around until you find someone you two are comfortable with is one of the most efficient ways to find a pre-marital therapist/counselor. P.S. shopping around is great-as long as you two don't mind filling out the initial assessment paperwork multiple times!
3) Spirituality and Religion. For most, marriage has both a spiritual and religious significance and history. When you consider this, it could be beneficial to seek a religious professional for marriage counseling as they are likely well versed in the purpose and foundation of marriage as you and your future spouse view it. If you are heavily connected to your higher being then this is perhaps the most favorable route for you to go…unless you are concerned about…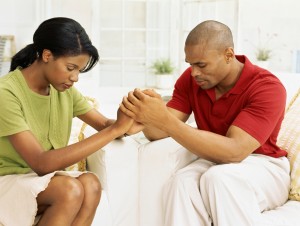 2) Anonymity. You may be reluctant to share the most pressing details of your relationship with someone who knows you two as a couple (i.e. your pastor). Being able to confide in someone who does not know either of you as a couple can offer a sense of relief because it allows to you release the feeling of someone "being in your business"! The truth of the matter is that both religious professionals and counselors are resources designed to help — and not judge — you.
1) Investing in your future. Counseling can be helpful at any stage of a relationship, however just like in the medical field; you have better outcomes when you focus on prevention and not just treatment. You are better equipped to deal with tough issues in your relationship when you have prepared for it verses when you are trying to figure out how to address it while it you are seeking counseling for the first time.
Triple B Sidebar: Here are two highly regarded pre-marriage counseling resources to consider. Don't forget to mention Black Bridal Bliss sent you should you reach out to these professionals. Mary Pender Greene and Metropolitan Marriage & Family Therapy.